Why are dams heightened or strengthened?
Dam Heightening and Rehabilitation
Dam owners & operators periodically assess their assets as part of their strategic planning with regards to operating regimes and safety assessments. Some of the structures involved can have expected useful lifespans of over 100 years with careful maintenance and rehabilitation. As the equipment in power plants reaches the end of its useful life and requires full refurbishment or sometimes in the light of a safety assessment, the rehabilitation and modernisation of hydropower plants also bring into question the reinforcement or heightening of the dams involved. This reflection has more than once concluded with a study showing that the heightening and/or reinforcement of a dam is of strategic advantage to increasing the entire power plants longevity and in some cases has shown that significant economic benefits can be won by increasing the volume of the existing reservoirs.
What are the reasons for dam heightening in Switzerland?
In Switzerland, a lack of supply during cold winters and the increased importation of electricity from neighbouring countries were the motivation to heighten some of the dams. An increase in the seasonal storage capacity of reservoirs provided a boost to production in the winter and consequently improved Switzerland's energy security.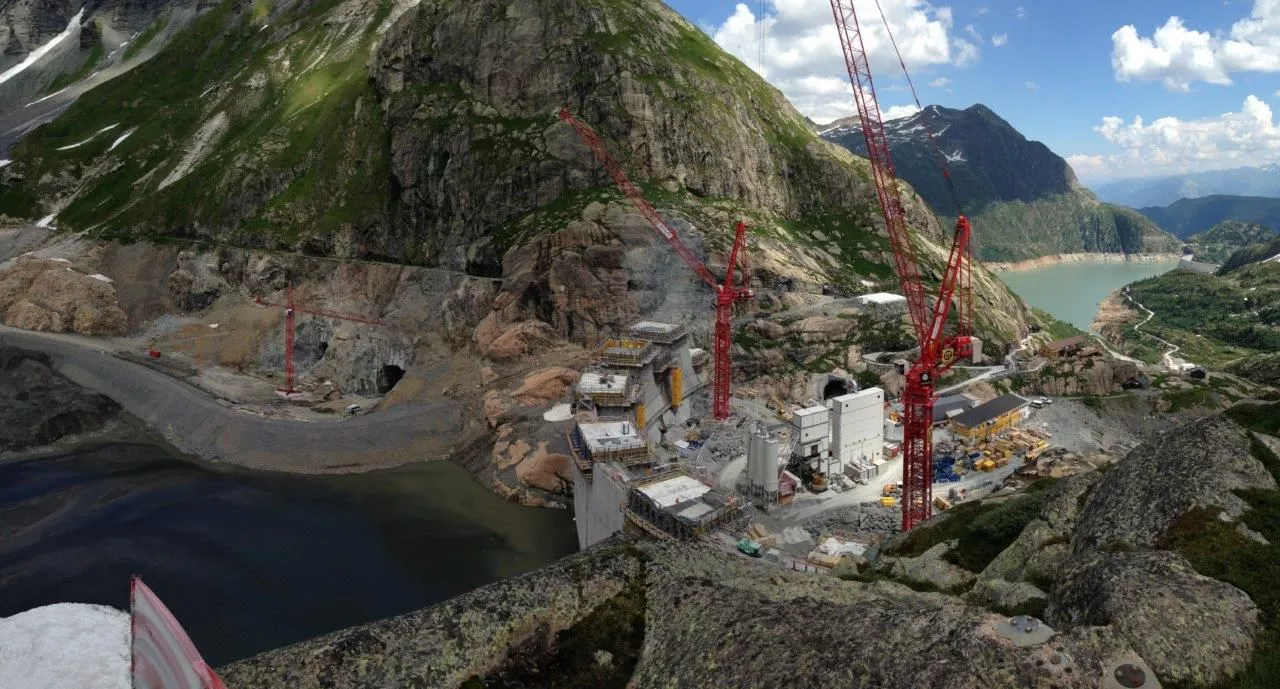 The benefits that can be won from increasing the volume of existing reservoirs also brings significant challenges in the assessment of the impounding structures to be heightened. The solutions determined as the best choice may see a range of works required from foundation improvement and partial demolition to fresh build and possibly changing the form of a dam, and could possibly include additional associated infrastructure works.
Our team of multidisciplinary experts can perform comprehensive inspections and review all aspects of the design and construction of dam heightening and strengthening projects. Our services include:
All design stages from preliminary design to detailed construction design
Comprehensive inspection and condition assessment services
Seismic hazard assessment
Concrete analysis and specifications for new concrete
Thermo-mechanical analysis
Finite element modelling
Site access and materials transport studies
Materials specification, construction method and scheduling, tender design, tender document preparation and procurement assistance
Conceptual modelling of deformations summarizing the knowledge resulting from measurements performed
Works supervision and construction management
Comprehensive operations and management support including training
In-situ testing, non-destructive testing, leak and crack detection
Blasting and excavations supervision
Impounding supervision
Appraisal of the dam behaviour before and after strengthening or heightening
Risk assessment: breaking point scenarios and process, consequences
Design and specification of monitoring and alarm systems
The heightening and strengthening of existing dams and associated structures is one of our specialisations. A selection of our recent projects include :
Nant de Drance Pumped Storage scheme in Switzerland specifically the heightening of the Vieux Emosson gravity arch dam, originally 45-metre high, heightened by 21.5 metres, increased reservoir volume by 15 million cubic metres
Heightening of Cambambe dam heightening project in Angola. The existing 60-metre high arch dam was heightened by 28 metres along with a complete redesign of the spillway with the addition of 5 gated orifice spillways.
Strengthening of Les Toules Arch dam in Switzerland, a safety assessment found that the 86-metre high dam was subject to an irreversible displacement. In order to ensure the dam safety against seismic hazard, the arch dam was reinforced and the foundation deepened (see the image below).